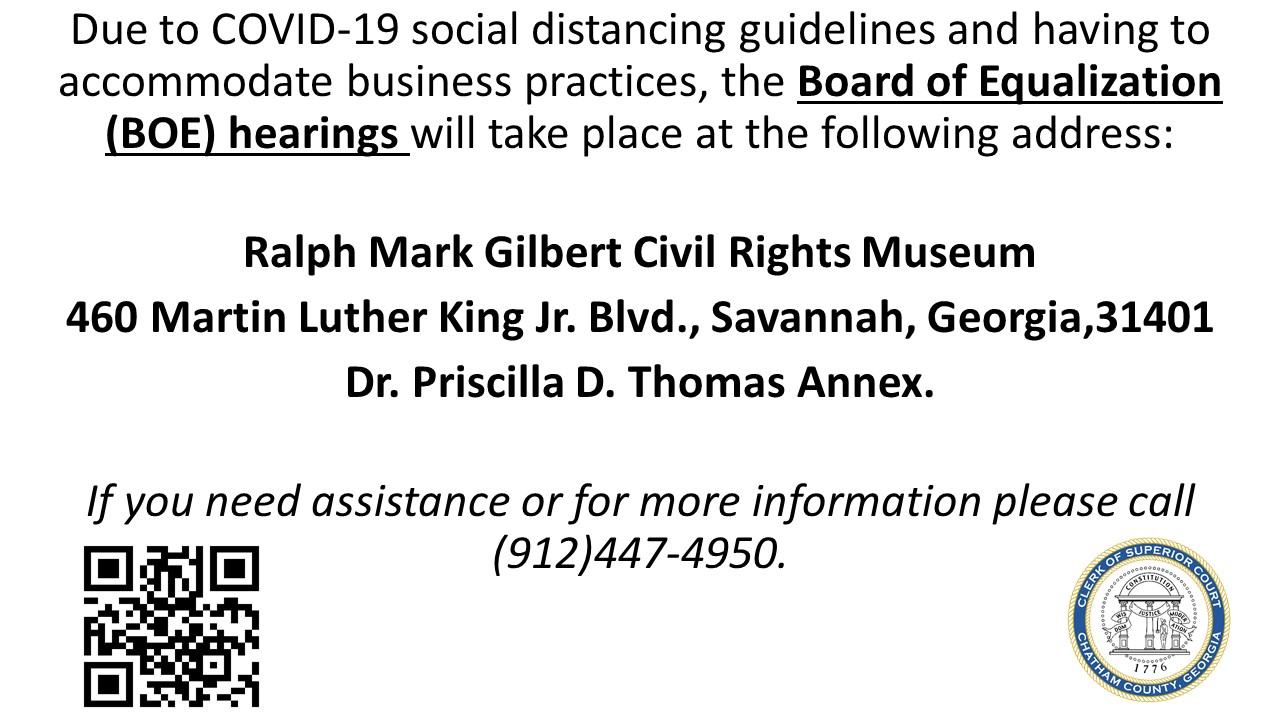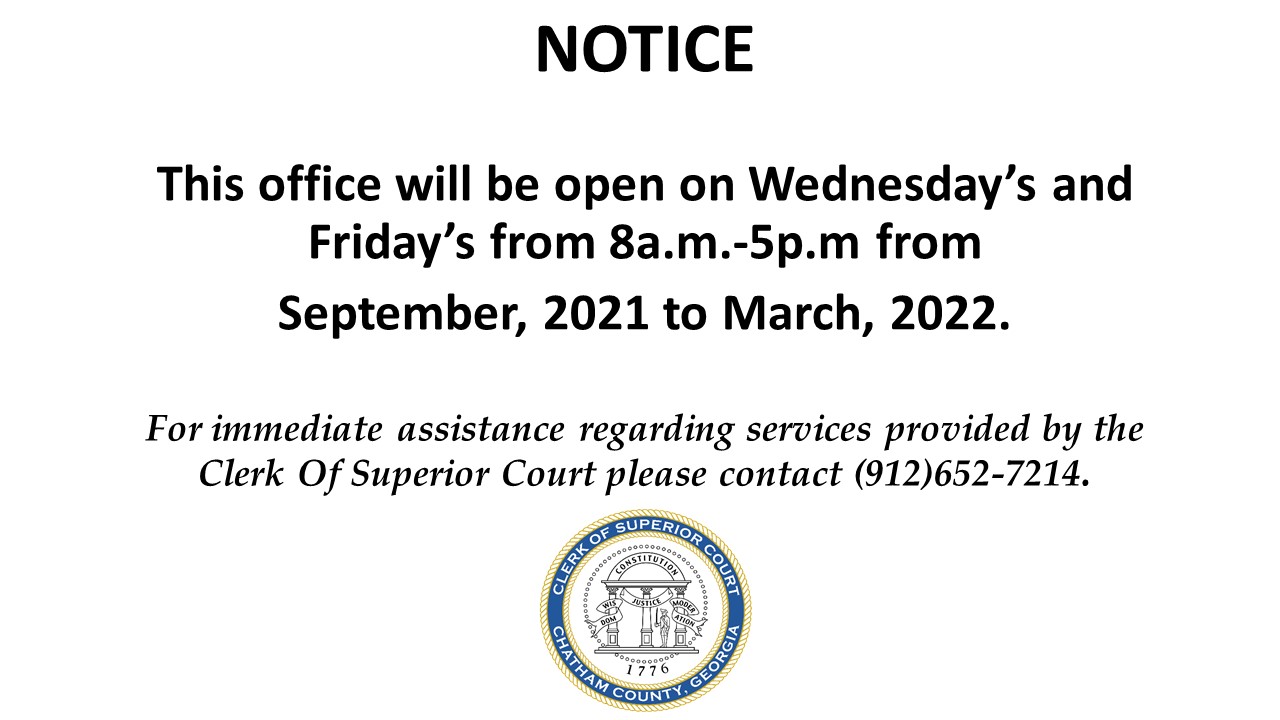 What is the Board of Equalization?
The Chatham County Board of Equalization (BOE) is a panel of property owners appointed by the Chatham County Grand Jury to serve the citizens of Chatham County. These appointees are required to have at least a high school diploma, own real property in Chatham County, and must complete at least 40 hours of certified training before they can serve on the Board of Equalization. Once a year, these board members must complete 8 hours of continuous education training and 20 hours of training upon being reappointed to the board. The Board is charged by the O.C.G.A. 48-5-311 to hear appeals of property tax matters.
As of January 1, 2011 the Clerk of Superior Court was vested with administrative authority in matters governing the conduct and business of the board of equalization as to provide oversight and supervision of the Board. This was done to place a neutral third party over the operation of this department in an effort to avoid all appearances of bias or impropriety.
If a property owner wants to appeal the tax assessment made on their property, the property owner(s) must file an appeal in writing to the Board of Assessors within 45 days of the postmarked date on their assessment notice. The appeal is reviewed by the Board of Assessors and if the Board's decision is a "no change," the appeal is forwarded to the Board of Equalization. The methods of appeal are:
Board of Equalization
Appealing to the Board of Equalization (BOE) is FREE to you. Chatham County has three separate Boards. Each hearing will be comprised of three members from one of these boards. If you select this option you will be scheduled for a hearing before the BOE. The BOE will listen to the county appraiser presentation, and they will listen to your presentation. Documentation you may consider presenting to the Board of Equalization may include: Evidence of purchase price; Appraisals; Photographs of the interior, exterior, and surrounding area; Evidence of sale Prices; Comparable property values in your area or any evidence that supports your appeal. After hearing all of the evidence the BOE will deliberate and render a decision based on the evidence presented. You will be notified of this decision in writing.

All members of the Board of Equalization are charged to be impartial in their deliberations. Either party may appeal to Superior Court within 30 days of the BOE decision by contacting the Board of Assessors. A $25 filing fee will be required if you appeal to Superior Court.
Hearing Officer
Appeals to a Hearing Officer are limited to non-homestead exemption properties, the value of which is in excess of $500,000. There is no cost to you for filing to a Hearing Officer unless you hire an agent to represent you.
The taxpayer must state the grounds for appeal which are limited to VALUE or UNIFORMITY. Hearing Officers must be either state certified, general real property appraisers or state certified, residential real property appraisers, and be approved by the GA Real Estate Commission and the GA Real Estate Appraisers Board. Hearing Officers must attend required training at his/her expense.
At the conclusion of the hearing, the Hearing Officer shall notify both parties of the decision verbally and both parties will be provided with the decision in writing. Either party may appeal to Superior Court within 30 days of this decision.
Arbitration
Within 10 days of receiving your appeal to Binding Arbitration, the Board of Assessors (BOA) will send an acknowledgement to you stating your requirement to provide, at your expense, a certified appraisal of your property prepared by a qualified appraiser. Also, you will be required to submit a filing fee of $25.00. You will have 45 days to submit your certified appraisal. Upon receipt, the Board of Assessors must either accept or reject your appraisal. If the BOA accepts your appraisal this will become the final value, the appeal will be resolved, and will return your check for $25.00. If the BOA does not accept your appraisal, within 45 days the BOA will certify your appeal to the Clerk of Superior Court with your filing fee of $25.00.